Our world is becoming increasingly urbanized, information circulation is becoming faster with each day, therefore, capturing people's attention has become a highly difficult task. While traditional eye-catching outdoor advertising has been constantly used for centuries, more and more companies are starting to realize how essential it is to be digital in our new-age world. With the introduction of new technologies marketers want to combine both their digital and traditional marketing efforts – that's how the idea of digital outdoor media was born.
At the moment outdoor media advertising is a fully established medium with the potential to be a creative masterpiece for marketers who are willing to connect the dots between the display, its environment and real-time data.
By now almost every single person knows what is a digital billboard, people face them on streets, in malls, on buildings and other places. Benefits of digital screens are huge: dayparting, use of multiple creatives, context based content and etc. Now digital screens are also being introduced to other traditional outdoor advertisement places, like bus shelters, rail stations, public transport and more.
Benefits of digital outdoor media
But why digital outdoor media is considered so important to advertisers? Isn't traditional outdoor media just enough? Well, a study conducted by Nielson showed that traditional outdoor advertising provides the highest rate of online interaction per dollar within all offline media platforms. What's more, according to the study, in the UK, digital billboards are proven to be twice as likely to be seen and are 2.5 times more impactful than static ones. Furthermore, ad tech developments are helping more companies to extend possibilities that digital billboards can provide.

Digital outdoor media has a great "stopping power" – the potential for attracting passers by attention. As the technology evolves, integrating more interactive facilities like touchscreens, WiFi hotspots, NFC chips and social media channels, screens are becoming a natural extension of a company's presence and can support with consumer's direct engagement.
Furthermore, if you want people to come closer to your digital billboard, you can integrate things like wayfinding with maps and routes or consult points of interest and news into digital screens, that will make digital media both useful to your company and to passers by.

You can use situational advertisement with digital posters. By measuring consumer's behaviour, location, gender and age, determining weather conditions, responding to fresh news, holiday or a time of the year, it can be made to correspond with current environment around the advertising area and swap ads depending on the current situation. It's a great opportunity to provide a certain product or service where it's currently needed and also to avoid dispersion of ads in places of disinterest and random sites. For example, if a bus full of football fans stops at a digital billboard, it can show an ongoing match score and in addition promote a sport betting platform to them.

Digital outdoor platforms allow to promote ads in different formats and make updates remotely. There's no need to waste time on crafting, trafficking, and assembling, with digital billboards advertisers can simply swap an old creative for a new one. Marketers also can remotely optimize digital screens, changing creative elements according to additional information they receive while running the campaign: adjust brightness, colors, sound, switch between stable images and video.

Digital outdoor media is very effective in encouraging consumers to take action. Research by the Out-of-Home Marketing Association of Canada showed that one-half of people state that they have taken action after seeing digital outdoor advertising. The two most frequent actions were – checking the website or seeking additional information about the product.

Examples of digital outdoor advertising
If you visited one of the biggest Portugal music festival, you possibly could have come across these digital kiosks. With interactive and multifunctional software these digital screens enhanced visitor's experience by providing WiFi, connectivity with social networks, voting platforms and geolocation.

Digital Self-Service for Golf Courses in Austria
This extremely resistant digital billboard that can withstand temperatures between -20ºC to 40ºC and provides ability to:
Make payments
View schedules and scores
Geolocation, maps and general information
Continental Tyres and Euro 2016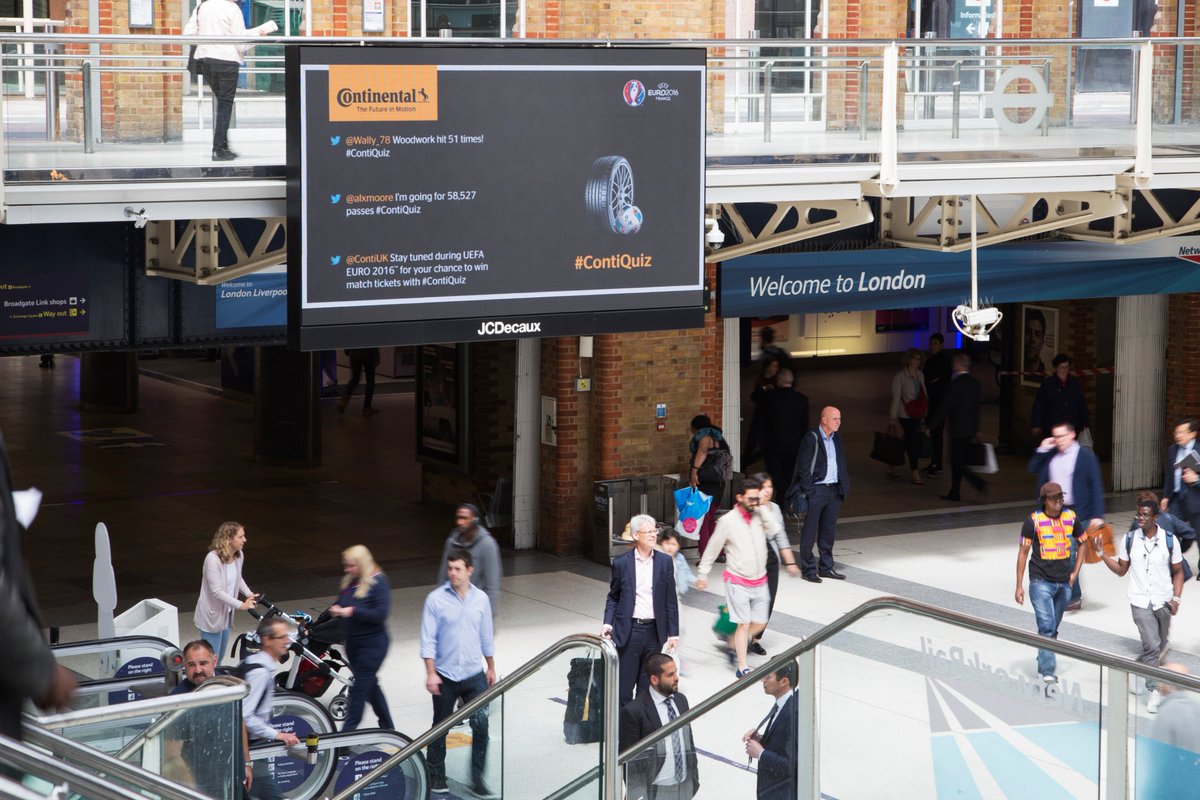 Official sponsor of Euro 2016 – integrated questions about the European tournament into its outdoor ads. They integrated a quiz about the football tournament into the digital advertisement and asked people to tweet answers using the hashtag #ContiQuiz.
Tweets then were displayed on the ads too and in addition, all participants had a chance to win a prize.
1. Challenging and engaging questions that correlate with current event.
2. Integration with social media
3. Interaction with twitter users online.
4. Motivation to participate – chance to win a prize.
5. Offers real-time data capture for the company.

This case again proves that digital outdoor media is a omniplatform advertising medium.

With so many productive integrations, and relationships with innovative or traditional technologies, it's a huge canvas that can be used to make unique and useful creatives. As digital outdoor evolves, more and more advertisers – local and multinational – will develop more relevant, interesting and eye-catching ads applying live data, integrations and elegance this format can provide.